Shop
Marah Celestials Greeting Cards (12 Pieces)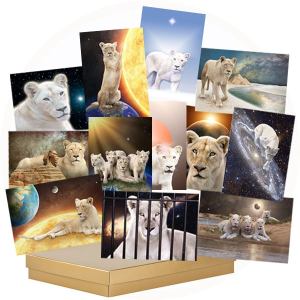 In White Lion territories, every season is Sacred.
Our founder lioness, Marah, was born on Christmas Day in a town called Bethlehem in the year 2000, and her lineage thrives in the Heartlands to this day.
These exquisite greeting cards come in a golden gift box set of twelve - a blessing for each month of the year. Each card was lovingly created by Linda Tucker and her design team, and is professionally printed on high quality card stock.
Die Einnahmen werden wir zu 100 % dem Global White Lion Trust zukommen lassen.