Shop
Book «TAMANGUR - about cats and stars»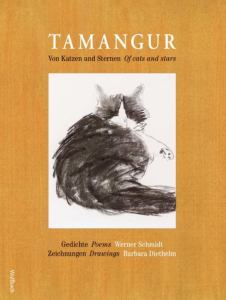 Barbara Diethelm and Werner Schmidt are two artists who not only work together but are also bound by a common creed – their reverence for the wonders of Creation. Their first joint book is a combination of words and pictures to celebrate the omnipresent mystique of the cat. We can experience the primeval power and beauty of this creature in and between the lines of Werner Schmidt's short, rhythmic verse as well as in the longer prose poems. And although one can sense the universality of these feline portraits, they also have a firm link with the present. The drawings are a selection from the countless sketches of her cats that Barbara Diethelm has made over the years.

Illustrated book with poems and drawings,
bilingual German/English, hardcover, 80 pages.

2012 Wolfbach Verlag, Zurich